US Department of Transportation
FHWA PlanWorks: Better Planning, Better Projects
US Department of Transportation
FHWA Planworks: Better Planning, Better Projects
Linking Planning and Operations
Operations and the Decision Guide
Increasing financial, environmental, and right of way constraints and the public's growing demand for reliable travel have transportation agencies searching for ways to do more with less. Transportation systems management and operations (TSMO) encompasses a broad set of strategies that aim to optimize the safe, efficient, and reliable use of existing and planned transportation infrastructure for all modes. This approach offers real-time operational strategies to address congestion as well as travel time reliability in the near term — often at a lower cost than capacity improvements. TSMO strategies are particularly effective when agencies are seeking targeted solutions to non-recurring congestion and events such as work zones, planned special events, inclement weather, and traffic incidents and emergencies.
Three areas of information support this integration:
Operations and the Decision Guide (below). Each of the four transportation decision-making phases provides opportunities to educate and engage partners and stakeholders about TSMO strategies. The Decision Guide describes when and how to consider TSMO approaches, including questions to consider, data, relationships to other topics, and examples from current practice. See The Decision Guide below to understand when and how TSMO can integrate into the planning process.
Congestion and Reliability. TSMO offers strategies for addressing both unpredictable and recurring congestion.
Planning for Operations. Guidance documents and practical examples of success can help advance operations in planning.
Hover over the highlighted Key Decisions to understand the specific relationship of TSMO to the decision. Click on any highlighted Key Decision for more information about questions, data, and relationships that support this interface. Key Decisions that are greyed-out have no specific relevance to the individual application or topic area but are still accessible from this graphic.
Congestion and Reliability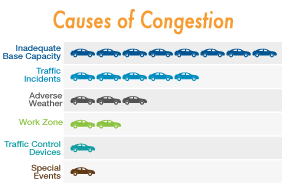 Congestion and Reliability - Are they different or just two sides of the same coin? A "just in time" way of life demands reliable travel. The many causes of congestion include both recurring and temporary, unexpected (non-recurring) disruptions to normal routine that impact reliability.
To address congestion, transportation professionals increasingly look to TSMO strategies for dealing with unpredictable as well as recurring causes. Congestion management planning offers many options to implement operational improvements. Use these ideas to get started:
Planning for Operations
Use the examples below to get started or to take your agency to the next level.
Regional Operations Coordination and Collaboration
Planning for Operations Guidance
Examples in Practice
Tools and Analysis