US Department of Transportation
FHWA PlanWorks: Better Planning, Better Projects
Enhancing Freight Mobility in Utah

Utah Department of Transportation
The SHRP2 Planning Process Bundle (PPB) is a collection of techniques and resources for increased collaboration in transportation planning, programming, project development, and decision making. For more information on all bundle products, visit the Planning Process Bundle website.
Project Snapshot
Engaged with the Freight Mobility Group
Produced various engagement and planning documents to facilitate planning, communication and education efforts for future Freight Planning:

Freight Mobility Communications Plan
Freight Program Plan
Freight Advisory Committee (FAC) Tech Memo (Recommendations)
Freight Brochure
Lessons Learned Memo
Executive Summary
Several key challenges have faced UDOT in its freight planning activities: public and stakeholder outreach and the identification of freight needs. To help address these challenges, UDOT utilized the SHRP2 Planning Process Bundle to consider ways in which they can:
Expand and improve freight outreach and education;
Improve freight industry and economic development community participation in the planning process (e.g., edcUtah, GOED (Utah Governor's Office of Econ Development), Chambers of Commerce);
Engage MPOs and UDOT Regions in the freight planning process;
Improve outreach to other states to understand their issues; and
Improve the process for assessing freight needs, which may be driven by external stakeholder necessities for land use access/egress, freight system integration. Support with sound planning and engineering principles that lead to improved strategy (projects) development.
While UDOT has completed its first State Freight Plan, the agency recognizes that there are changes that it can make to improve upon this initial plan and begin to address outreach and freight planning challenges. Using the SHRP2 PlanWorks process, UDOT identified the elements of their previous freight planning efforts that were successful. UDOT was one of the first State DOTs to have a Freight Plan in place, successfully implemented the Freight Mobility Group (FMG) to identify passing lane needs, and planned and prioritized the 5600 West roadway widening and railroad grade separation project and it is now on the STIP. This project has been identified as an important project in regards to freight movement and associated safety concerns.
UDOT also discussed ways in which it could improve the agency's planning process for future freight plans to ensure robust communication with stakeholders, the public, and others, as well as identify freight needs in the state.
One conclusion drawn from the PlanWorks process is the importance of expanding UDOT's existing Freight Mobility Group. By expanding membership and engaging this group earlier and more often in the freight planning process, UDOT will have a formal means to solicit private business, MPO and other stakeholder input related to the State's freight needs. It also allows UDOT to better educate FMG members on how the agency works, as well as what it can and cannot do to support the freight transportation system in Utah.
Engaging internal and external stakeholders was identified as another important element of a successful freight planning effort. To jumpstart outreach in advance of their next freight plan, the agency developed a Communications and Stakeholder Outreach Plan. A freight brochure was also developed, in lieu of individual fact sheets and reflects current UDOT branding standards (see Figure 1). Content and layout was based on input from UDOT and incorporated more graphical elements to describe the freight system in Utah. The freight brochure is available as a hardcopy booklet and as a pdf, which can be shared electronically. An outline of the proposed freight trade plan was also completed through the PlanWorks process.
Product Implementation
UDOT implemented the PPB products with a team that included UDOT Planning Division staff and three consulting firms with experience in freight planning, economic analysis, public involvement, and SHRP2. The project duration was about 1.5 years.
Figure 1: Cover of Statewide Freight Brochure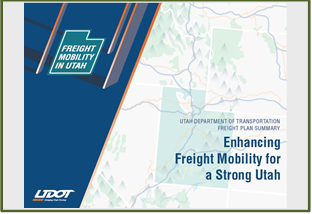 Stakeholder Collaboration
UDOT worked with the existing Freight Mobility Group, including staff from UDOT Regions, to discuss how the agency could consider changing its freight planning approach.
In addition, we used the PlanWorks process to identify how we might improve upon our previous freight planning effort. A technical memorandum documenting the results of this process is provided as an attachment.
Key Outcomes
Key outcomes of the implementation of this SHRP2 product include:
Better understanding of the importance of freight to transportation planning at UDOT
Improved education of elected officials and the general public
Lessons Learned
Lessons learned were identified for outreach, investment financial assumptions, strategies, and future planning.
Outreach lessons learned focused on both internal and external recommendations. These include the need to continue to elevate freight within UDOT and the need to enhance outreach efforts to UDOT Regions in order to solicit input on specific projects, needs and provide education on freight issues.
In addition, UDOT could continue to utilize the recently developed communications brochure to further educate the public, elected officials, etc. Other actions can be taken to continue the dialogue related to freight and to ensure that freight issues remain on the forefront of UDOT's planning.
For future freight plans, UDOT may consider expanding the Freight Mobility Group to better integrate state economic development organizations, private sector, and other communities in identifying freight–related needs. Extensive stakeholder interviews and meetings, including input from rural planning organizations and MPOs could also be conducted. Opportunities for data sharing and P3s could be identified through this additional outreach.
When identifying investments, UDOT could continue evaluating potential freight investments through data analysis, outreach and related efforts, including FMG input, and UDOT Region support.
A preferred set of transportation projects to include in the freight plan could be selected and when selecting these investments, the freight plan's project list could be prioritized and fiscally constrained. It was also recommended that other measures (e.g., truck parking availability, truck safety) could be considered in order to specifically prioritize freight investments, and the prioritization framework could identify the top freight projects to include in the freight plan.
UDOT noted that it may be worth considering obtaining input from internal and external stakeholders could help to identify the top freight projects in the long–range plan. In addition, from a financial perspective, UDOT could identify how NHFP funds might be used to expedite projects and align Critical Urban and Rural Freight Corridors with deficiencies.
Strategies included translating transportation deficiencies or issues into projects or policies more completely. Ultimately, UDOT could develop strategies to ensure that freight projects and policies are included and considered for funding in long–range planning. A final strategic recommendation would be to synchronize the cycles of freight and LRTP planning.
For future planning, UDOT could consider scenario planning as a comprehensive exercise across all modes, not just freight–specific. Sensitivity analyses could also be incorporated into the travel demand model (e.g., catastrophic event or small change) to assess impact to overall transportation system. This approach could assist in assessing the freight transportation system's level of redundancy.
Next Steps
Expand existing Freight Mobility Group
Begin data and information collection for future freight plan
Coordinate with UDOT internally, including district offices
Consider how to integrate freight considerations in the larger long range transportation planning process
Connections to PlanWorks
As part of this planning effort, the PlanWorks process was utilized to identify and document previous freight planning experience and changes to be made in future freight planning.
Freight planning goals were reviewed as part of the PlanWorks process. It is expected they will remain the same for the next freight plan, based on this review. For the next plan, the UDOT Freight Planner will discuss with the agency and the Freight Mobility Group potential sub goals or objectives that could be added to the agreed upon goals. Performance objectives related to freight will also be incorporated to help determine whether the goals are met over time.
Best practices were discussed during the Plan Works exercise as well. A schedule of planning–related activities to complete between Freight Plans was developed through this process. A presentation that included Freight Advisory Committee structures across the country was made to the current freight plan's Freight Mobility Group (FMG). Input was solicited from the group related to FAC structure, the existing FMG, and the structure and mission of the FMG/FAC.
UDOT developed a technical memorandum documenting lessons learned from the process and how the agency intends to use the results to improve its planning practices. The lessons learned include the importance of planning between plans to provide adequate time to consider changes to planning elements, such as the structure and membership of the Freight Mobility Group. A complete discussion of Lessons Learned is provided earlier in this report.
For More Information